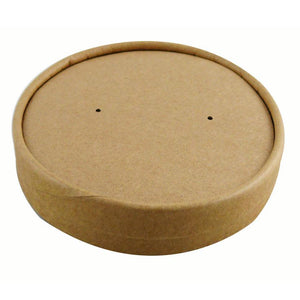 26/32 oz Kraft Vented Soup Lids
Make a statement with our Kraft Vented Soup Lids!
Crafted from double thickness food-grade poly paper, these lids not only keep your soups, salads, and pasta dishes fresh and flavourful, but also take a step towards protecting the planet.
Made from renewable resources and lined with a corn-derived (INGEO PLA) moisture barrier, our lids are compostable, making them a smart alternative to standard PLA coated paperboard containers. Take pride in serving your food in eco-friendly packaging that reduces your carbon footprint and contributes to a greener future.
Designed with convenience in mind, our vented lids allow steam to escape, making them safe for freezing, refrigerating, and even microwaving.  Ideal for serving hot foods on the go, such as steaming soups and pasta, or even cold treats like ice creams and frozen yogurts.
With their rustic Kraft paper material and charming design, our lids not only serve as functional food packaging, but also add a touch of natural elegance to your foodservice offerings. Stackable and leak-resistant, these lids are perfect for take-away soups, salads, and pasta, making them a must-have for food trucks, catering events, and more.
Case Quantity : 500
Use with container codes : 10400KS26 (26 oz)  10400KS32 (32 oz)
Product Code: 10400KSL2632