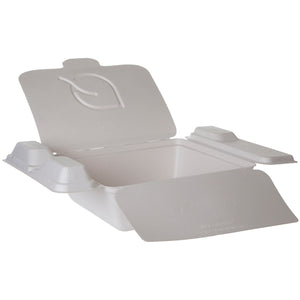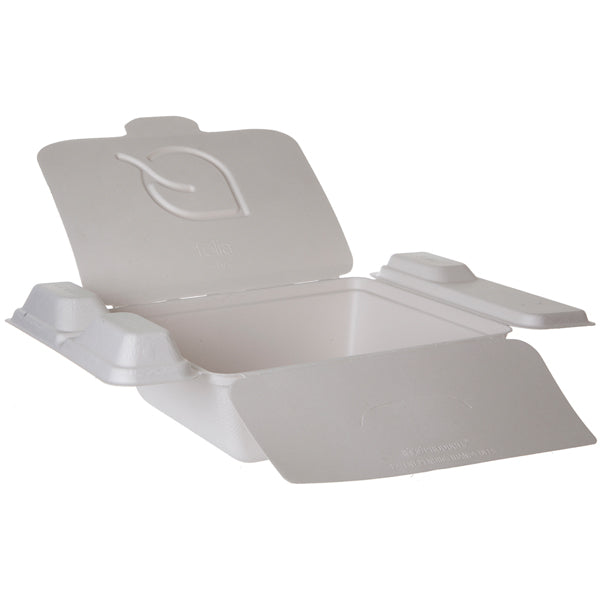 1700ml Folia™ Sugarcane Takeaway Containers
Revolutionize the take-out and leftover experience with our innovative 1700ml Folia™ Sugarcane Takeaway Containers!
Made from renewable and reclaimed resources, our Folia™ Sugarcane Takeaway Containers are crafted from sugarcane, a rapidly renewable resource. This means you can feel good about using these containers knowing they are made from sustainable materials.
Our Folia™ Sugarcane Takeaway Containers are versatile, designed for use with hot or cold foods, and are microwave and freezer safe. They are embossed with convenient features such as pull tabs, perforated flaps, cutlery nooks, and sauce caddies, making them easy to use and perfect for take-out and leftover meals.
With moulded, spill-resistant corner flaps and engineered stackability, these containers are designed for practicality and ease of use in busy foodservice environments. They are also freezer safe, allowing for convenient storage of leftovers or pre-prepared meals.
Not only are our sugarcane products made from a reclaimed resource that would otherwise be burned, but they are also compostable in commercial compost facilities, contributing to waste diversion from landfills. While they may not be suitable for home composting, composting in commercial facilities is a great way to improve vital soil resources and reduce environmental impact.
Dimension : 8.25 x 7. 5 x 2.5 in.
Capacity : 58oz
Case Quantity : 150
Product Code: 10244