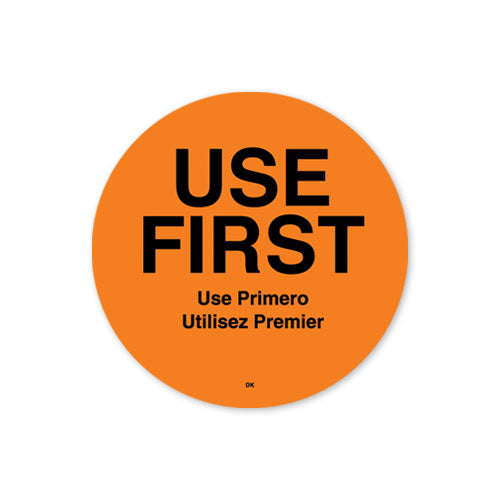 51mm Circle Orange Use First bilingual Label
Ensure safe food rotation with our 51mm Circle Orange Use First Bilingual Labels!
These DuraMark Labels are designed with an aggressive adhesive that can permanently adhere to any surface, making them ideal for disposable containers, boxes, and portion bags in your food preparation and storage process. Moisture-resistant and safe for the freezer, reliable performance even in challenging environments. 
Featuring a working temperature range of -40C to 71C and a minimum application temperature of -12C, our Use First Bilingual Labels are versatile and reliable in various food storage conditions. The aggressive adhesive ensures a secure and long-lasting bond, capable of withstanding the rigors of a busy commercial kitchen.
With Day of the Week Labels, Deli Labels, and Food Labels, our labelling systems provide clear and easy-to-read information for proper food rotation, promoting food safety in your kitchen operations.
Pack Size : 500 Labels per Roll 
Label size : 51mm
Product Code: 10310M