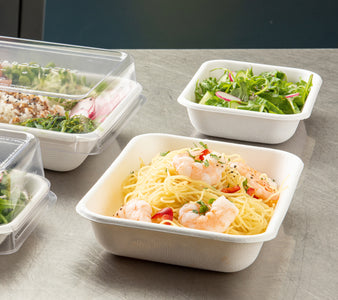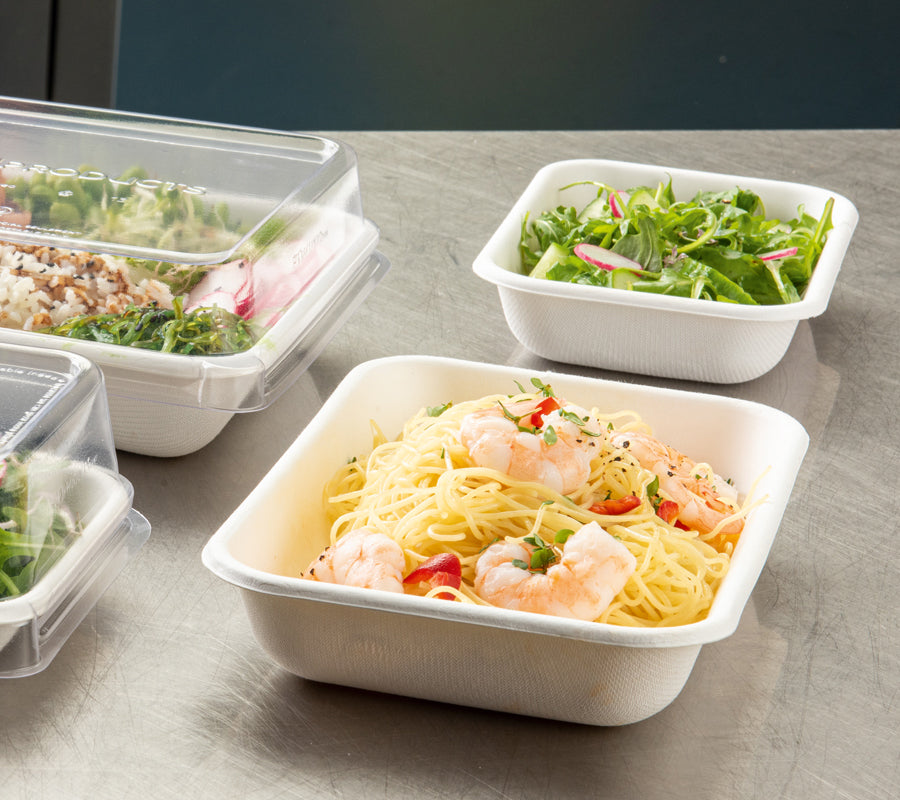 8" Square Worldview Takeaway Container
Make a statement with your take-out packaging by choosing Eco Packaging's 8" Square WorldView™ Takeaway Container. It's a packaging solution that combines sustainability with performance, ensuring you can enjoy your favourite meals while making a positive impact on the environment.
The WorldView™ Containers are designed to make a difference. They feature sugarcane bases, sourced from rapidly renewable resources, making them a sustainable choice for conscientious consumers. These bases are also ASTM D6868 compliant for compostability, ensuring that they break down naturally and leave minimal impact on the environment.
When it comes to lids, we offer two options for versatility and sustainability. Our renewable and compostable PLA lids are perfect for cold foods, providing a secure and eco-friendly solution for salads, chilled desserts, and more. They are also BPI-certified compostable, giving you peace of mind that you're making a responsible choice.
For hot or cold dishes, our 100% recycled contents RPET lids are an excellent option. Made from post-consumer content, these lids are a testament to our commitment to reducing waste and promoting sustainability. They are designed to fit snugly and securely, keeping your food fresh and delicious.
With a generous capacity of 1064ml, our 8" Square WorldView™ Takeaway Container is perfect for a wide range of food items. Whether it's a hearty meal or a refreshing salad, our container is up to the task. Plus, the bases are grease- and cut-resistant, microwaveable, and freezable, offering convenience and versatility for your on-the-go lifestyle.
Dimension : 7.65 x 7.65 x 1.67 inch
***Lid sold separately***
Use with lid code
: 12219
Product Code: 12218