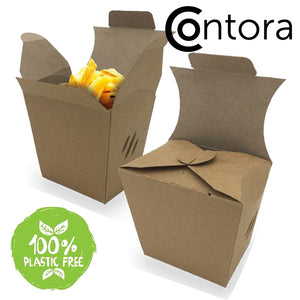 Contora Chip Scoop
Keep your food fresh, crisp, and ready to enjoy with this innovative and reliable chip food box!
This innovative chip food box is designed with a double locking mechanism to ensure secure transportation of your delicious hot chips. No more worrying about spills or leaks during delivery, as the Contora chip scoop keeps your food safe and secure.
Made from high-quality grease-resistant board, this chip scoop is designed to withstand the greasiest of treats. Its nested base comes stacked and ready to fill, making it easy and convenient to use in busy kitchens. The air holes allow for heat release, preventing moisture build-up that can affect the quality of your food.
This chip scoop also boasts contour edges, giving it a premium look that adds a touch of elegance to your QSR (Quick Service Restaurant) range. 
Dimensions: 70/108 x 55/85 x 95mm
Capacity : 20oz
Case Quantity : 200
Product Code: 90933