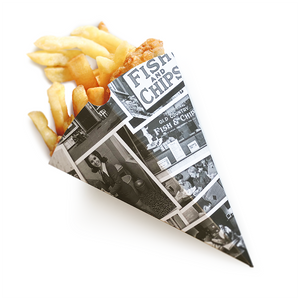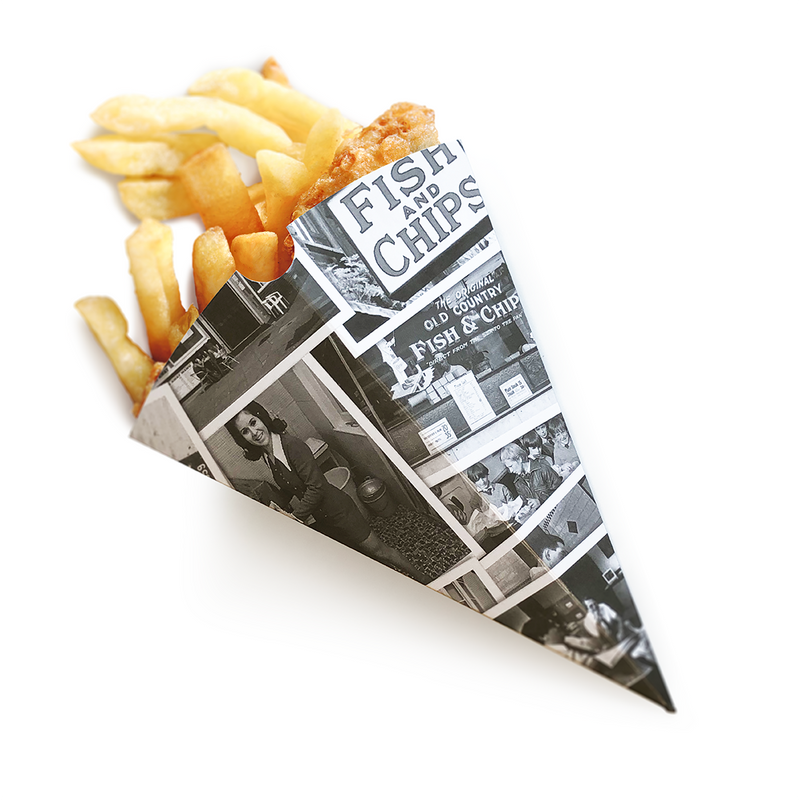 Multi Food Cone 'Retro Newsprint'/1000s
A creative and nostalgic way to serve food - Multi Food Cone Retro Newsprint!
Inspired by the design of a newspaper, the 'Retro Newsprint' captures the nostalgia and adds a touch of creativity to your food presentation. Ideally suited to chip shops, these cones are the perfect size for fitting in a fresh serving of chips. 
Made from paper cardboard, this food cone is 100% recyclable, making it an environmentally friendly option. It is designed to be leak-proof, ensuring that any sauces or liquids from the food do not seep through and cause any mess. With it recyclable feature, this makes it an eco-friendly option for food service.  Its unique design adds a fun and memorable touch to your food presentation, making it suitable for various occasions and settings.
The 'Retro Newsprint' design adds a unique and eye-catching element to your food presentation, making it a great choice for themed events, parties, or special occasions. It can also be used in restaurants, food trucks, or other food service settings where you want to create a memorable dining experience for your customers.
Dimensions
:  (L) 176 x (W) 150
Case Quantity : 1000
Product Code: 90974