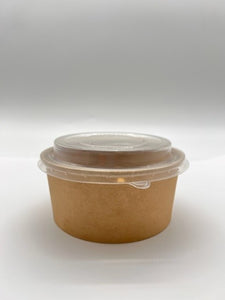 PP Lid to fit 750ml Kraft Bowl
Keep your food fresh with our PP Lid, made to fit 750ml Kraft Bowl.

Designed to elevate your dining experience to new heights! Whether you're savouring a piping hot meal or indulging in a refreshing cold dish, these lids are your go-to solution for convenience and versatility.
With their cutting-edge design and superior performance, our lids are specifically crafted to withstand the rigors of microwave cooking.  Effortlessly seal in the delicious flavours of your favourite hot meals, and enjoy the convenience of easy reheating without any fuss or mess.  Plus, these lids are equally adept at keeping your chilled culinary creations fresh and flavourful, making them the perfect choice for all your food storage needs.
Dimensions: 145mm
Product Code: 90906
Case Quantity: 400
Match with bowl code: 90926A
Product Code: 90906