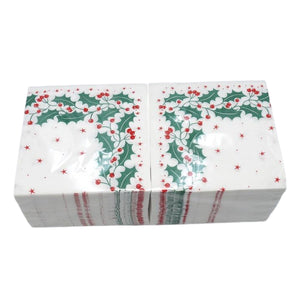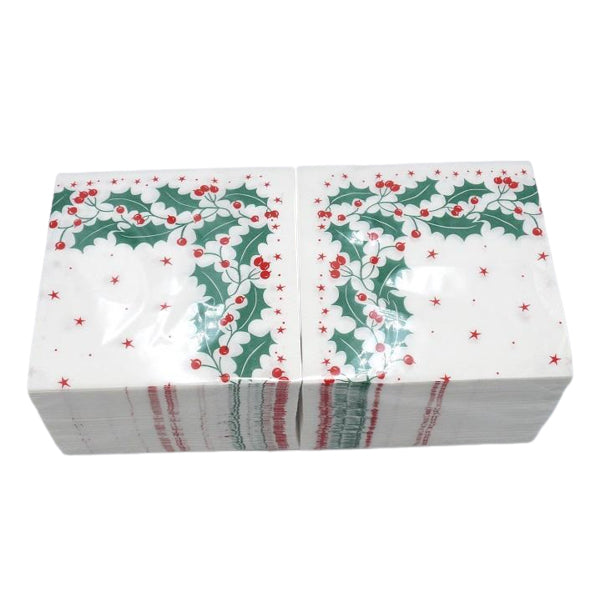 33cm 2 Ply Holly Festive Napkin
Add a touch of festive elegance to your holiday celebrations with the 33cm 2Ply White Holly Napkin!
This exquisite napkin is designed to elevate your Christmas and New Year meals, parties, and events with its charming holly pattern and premium quality.
Measuring 33cm in size, this napkin is perfectly sized for a variety of occasions, from intimate family gatherings to grand holiday feasts. Its 2-ply thickness ensures durability and absorbency, making it practical for wiping spills, dabbing mouths, and maintaining a tidy dining experience.
Not only does this napkin enhance the aesthetic appeal of your table, but it is also practical and convenient. It can be easily folded or arranged in various decorative styles, adding a touch of sophistication to your table setting. Plus, its disposable nature saves you the hassle of laundry, making cleanup after your holiday celebrations a breeze.
Whether you're hosting a family dinner, a holiday party, or a special event, the 33cm 2Ply White Holly Napkin is the perfect choice to add a touch of elegance and festivity to your table. Make your holiday meals and celebrations truly memorable with this charming napkin that captures the spirit of the season.
Pack Quantity : 2000
Product Code: 10942