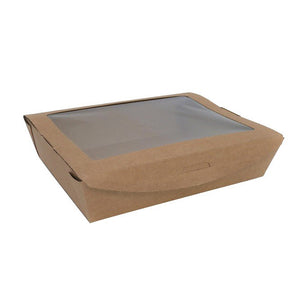 Plastic Free Large Salad Boxes
Make a statement with your sustainable packaging and impress your customers with your commitment to the environment!
Made from paper, these salad boxes offer an environmentally friendly solution to serving salads and pasta dishes.
Designed with functionality in mind, our salad boxes are grease and water resistant, ensuring that your food stays fresh and appetizing. They are perfect for serving a variety of cold foods, such as pasta salads, mixed greens, and more, making them versatile for a range of culinary creations.
In addition to being functional, our salad boxes are also eco-friendly. They are compostable, recyclable, and biodegradable, reducing your environmental footprint and contributing to a more sustainable future. With their plastic-free design, you can feel confident that you are making a responsible choice for the planet.
Add a personalized touch to your salad boxes with our bespoke print option, allowing you to showcase your brand or logo. 
Dimensions : 180/135x180/135x45mm
Case Quantity : 300
Product Code: 10244W