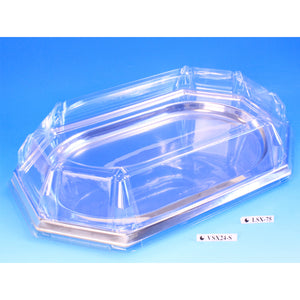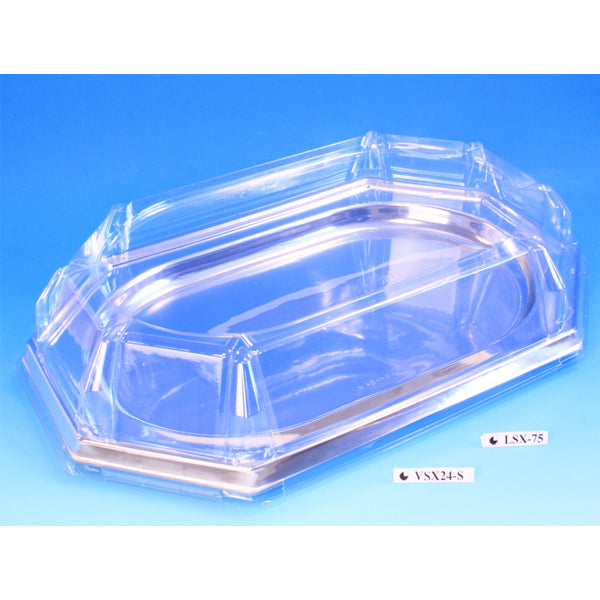 Clear Plastic Lid to fit Large Octagonal Platters
Made from high-quality APET material, this crystal-clear plastic lid is the perfect solution, providing a secure and convenient solution for your food presentation needs.
Ideal for buffets, parties, and functions, this clear plastic lid helps to keep your food fresh, protected, and hygienic. It allows for easy visibility of the food items inside, enhancing the presentation and appeal of your dishes. The lid is designed to fit snugly on top of the large octagonal platter base, keeping the food securely in place during transport and service.
As used by professional caterers, our clear plastic lid is made from durable and reusable materials, allowing for easy stacking and storage. It is also recyclable, making it an eco-friendly choice for businesses that prioritize sustainability.
With its sleek and transparent design, this clear plastic lid allows for easy viewing of the contents without having to open the lid, making it convenient for customers to see the food options available. It is suitable for a variety of food items, from appetizers to main courses, making it versatile for different types of events and occasions.
Enjoy its durability, convenience, and eco-friendly features. Whether you're hosting a buffet, a party, or a function, this lid is a practical choice for your catering needs.
Sizes : 472x322x75mm
Case Quantity : 25
Match with Silver BASE code : 10753
Product Code: 10753LID