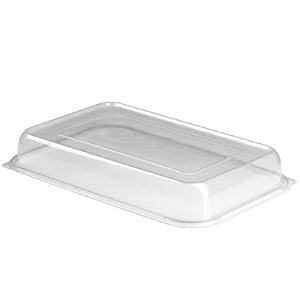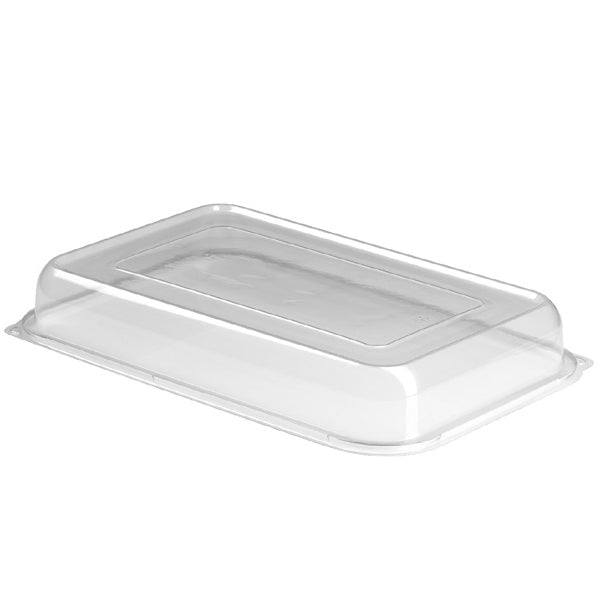 Faerch Large Plastic Dome Lid Platter
Upgrade your catering presentation with our Large Plastic Dome Lid Platters, featuring crystal clear visibility, firm clip closure, stackability, and recyclability. Used by professional caterers, these lids are a reliable choice for your catering needs, providing convenience, durability, and sustainability in one package.
These lids are designed to provide crystal clear visibility of the contents, allowing your food to be displayed attractively and professionally.  Featuring a firm clip closure, these dome lids securely seal your platters, keeping your food fresh and preventing any spills or leaks during transportation. The durable construction of these lids ensures that they can be used repeatedly, making them a cost-effective and eco-friendly choice for your catering needs.
Designed with stackability in mind, these dome lids allow for easy storage and transportation of multiple platters without taking up excessive space. This makes them a practical choice for catering events, parties, or any occasion where platters need to be stacked and transported.
Additionally, these dome lids are made from recyclable plastic, making them environmentally responsible. They can be recycled after use, reducing their impact on the environment and promoting sustainability in your catering operations.
BASE Sold separately
Sizes : 460x300x63mm
Case Quantity : 50
Use with BASE code : 107624
Product Code: 107625