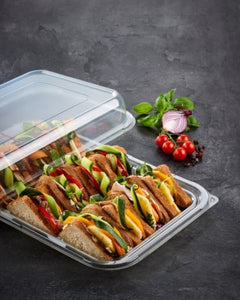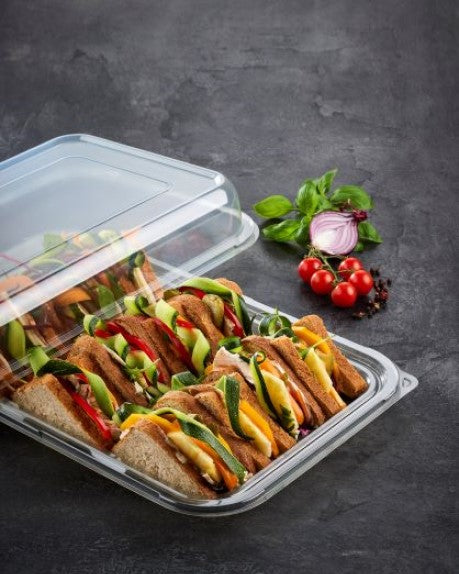 Faerch Large Rectangular Catering Platter Base
Elevate your buffet, party, or function catering to the next level with our Faerch Large Rectangular Catering Platter Base!
Made from premium quality clear plastic, these platter bases are durable, stylish, and provide a sleek presentation for your food.  Designed with professional caterers in mind, these platter bases are the go-to choice for high-quality catering events. They offer a spacious surface for arranging and displaying a variety of food items, from appetizers to main courses, desserts, and more. The clear plastic construction allows for a visually appealing presentation, showcasing your culinary creations and enhancing the overall aesthetics of your event.
The platter bases are stackable, making them easy to store and transport, saving valuable space in your catering setup. They are also reusable, allowing for cost-effective and sustainable use in your catering operations. After use, they can be recycled, promoting environmental responsibility and reducing waste.
With their premium quality construction and professional appearance, our Large Rectangular Catering Platter Bases are the ideal choice for buffets, parties, and functions where presentation matters. Elevate your catering setup with these clear plastic platter bases, used by professional caterers, and impress your guests with a stylish and functional catering display.
LIDS SOLD SEPARATELY
Sizes : 460x300x25mm
Case Quantity : 50
Lid Code: 107625
Product Code: 107624