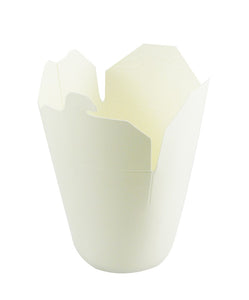 16oz White Round Noodle Boxes
Introduce our 16oz Noodle Boxes to your kitchen, the perfect choice for enjoying your favourite noodle dishes in style and convenience!
These noodle boxes are made from double thickness food grade poly paper, ensuring durability and reliability for all your culinary needs. These noodle boxes are versatile and suitable for a wide range of food products, from hot to cold, wet to dry. Whether you're serving up piping hot ramen, chilled soba, saucy stir-fried noodles, or crispy fried noodles, our noodle boxes are up to the task.
Designed with sustainability in mind, our 16oz Noodle Boxes are 100% recyclable, making them an eco-friendly option for takeout or to-go meals. They are made from renewable resources and can be easily recycled, reducing your environmental impact.
With their user-friendly design, these noodle boxes are easy to fill and comfortable to hold. They come with a secure lid to prevent leaks and spills, ensuring a mess-free dining experience for your customers.
Capacity : 16oz
Dimensions : 85x91mm
Case Quantity : 500
Product Code: 1023516