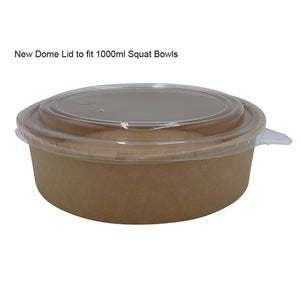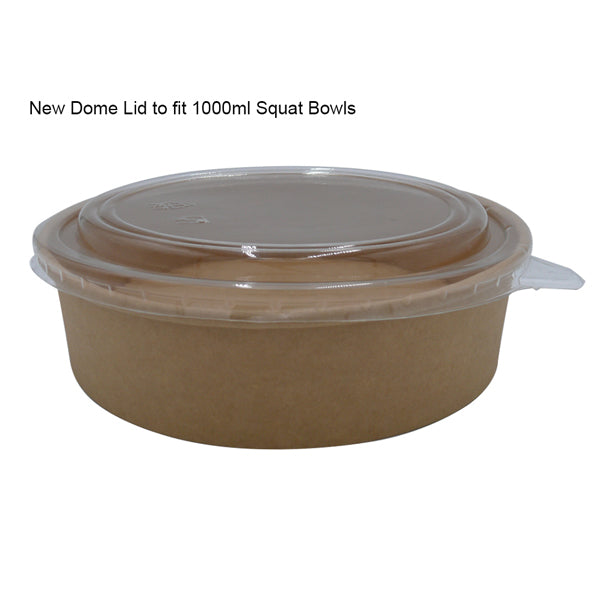 PET Dome lid to fit 1000ml/1300ml Squat Bowls
Designed to fit our 1000ml and 1300ml squat bowls, these lids providing a convenient and reliable packaging option. 100% Recyclable, Cost-effective and environmentally friendly they are commonly used in food packaging. .
Leak-proof and spill-proof, they ensure that the contents of the bowls remain safe during transportation or storage. They provide a clear and transparent view of the contents, making it easy to identify the food inside. The dome shape of the lids provides additional space for food items that may require extra height or space, such as salads or toppings.  
Additionally, they are easy to display and store on shelves or in cabinets, helping to save space. They are suitable for a wide range of food types and can be used with both hot and cold foods.  
Using PET dome lids for your 1000ml and 1300ml squat bowls provides a practical and environmentally friendly packaging solution. Properly recycling or disposing of these lids according to local waste management guidelines will help contribute to sustainability efforts.
Remark : The general temperature range for PET lids is -10℃ ~ 70℃.  
Dimension: 187mm
Quantity Case : 300pcs
Match with Bowls code : 90924 & 49902
Product Code: 90925