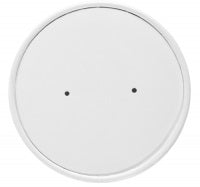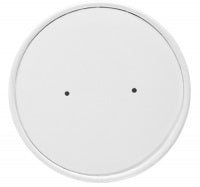 26/32oz Paper Vented Soup Lid
Upgrade your take-away service with the 26/32oz Paper Vented Soup Lid, the perfect choice for serving hot or cold food to-go!
Made from sturdy cardboard paper, this lid is not only durable but also 100% recyclable, making it a sustainable choice for your business.  Specifically designed to fit our 26/32oz paper soup cups, ensuring a perfect and secure fit. Its vented design allows steam to escape, preventing the lid from buckling or causing spills. It is also safe for freezing, refrigerating, and microwaving, giving you the flexibility to store and reheat your food as needed.
This lid is great for serving hot foods such as soup and pasta on the go, keeping your customers' food piping hot while they travel. It can also be used for cold and even frozen desserts such as ice creams and frozen yogurts, making it a versatile choice for any food establishment.
*CUPS SOLD SEPARATELY
Case Quantity : 500
Cups code : 20942 / 20931B
Product Code: 20942L