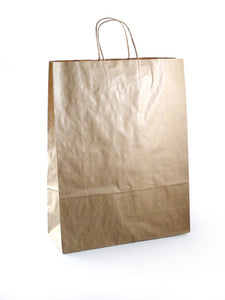 32+12x41cm Toptwist Fashion Carriers Brown Bags
Carry the finest foods with confidence, using our Kraft Paper Carrier Bags with twisted handles - the perfect blend of style and practicality!
Manufactured from sturdy paper materials, ensuring durability and strength for carrying a wide range of items, from gourmet foods to thoughtful gifts. The twisted handles provide added support, making them reliable and convenient for your everyday needs.
With their rustic and natural appearance, these bags not only serve as a practical solution for carrying items, but also make a statement about your commitment to sustainability. They are made from eco-friendly materials, making them a responsible choice for reducing your environmental footprint.
Dimensions : 32+12x41cm
Case Quantity : 200
Product Code: 10082