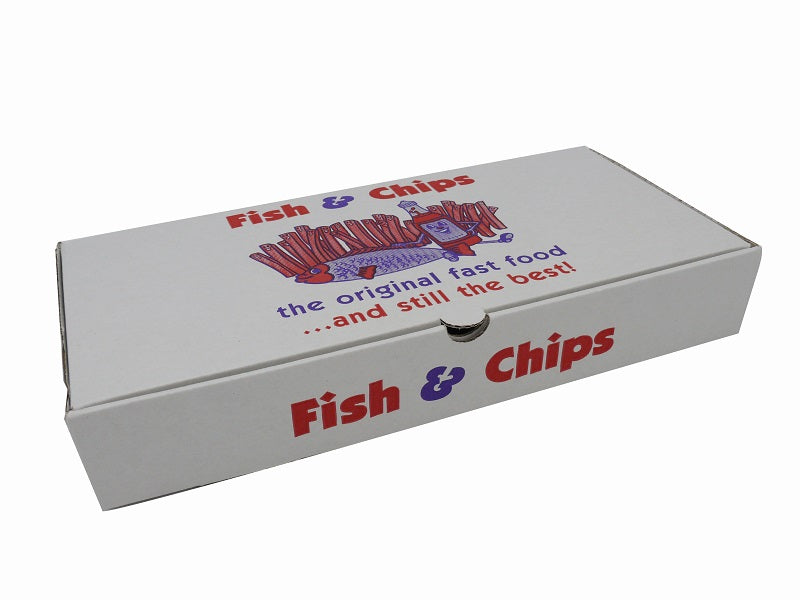 Large Fish and Chips Boxes 'Traditional'
Introducing our Large Fish and Chips Boxes 'Traditional', the ultimate solution for serving up a classic favorite! Made from durable corrugate paper, these boxes are not only eco-friendly but also 100% recyclable, making them a sustainable choice.
Featuring the word 'Traditional' printed in vivid blue and yellow colors, these boxes exude a nostalgic charm that adds to the dining experience. The generous size of these boxes makes them perfect for serving large portions of fish and chips, ensuring that your customers or guests are satisfied with a hearty meal.
Designed to withstand hot, wet, and oily foods, these boxes are built to last. Their leak-proof construction ensures that the contents stay securely contained, without any mess or spills. They are ideal for takeaways, picnics, events, or any occasion where you want to serve fish and chips in a convenient and reliable packaging.
These Large Fish and Chips Boxes 'Traditional' are not only functional but also visually appealing, adding a touch of authenticity to your fish and chips presentation. Serve up this beloved dish in style with these recyclable, leak-proof, and charming boxes that capture the essence of tradition in every bite!
Dimensions : 6x12.5x2" (12.5")
Case Quantity : 100
Product Code: 102333