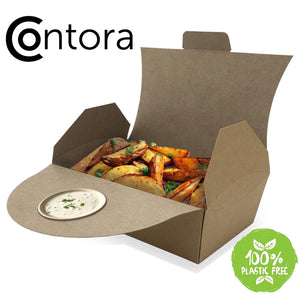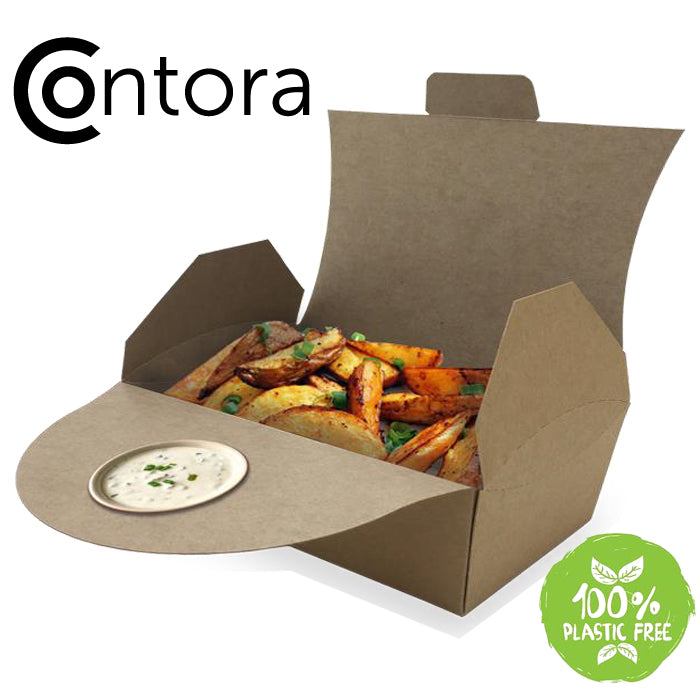 Large Food Box with dip pot holder
Secure, Stylish and Convenient, This innovative food box is designed to provide the perfect solution for securely transporting your delicious salads, sides, and snacks with ease - Perfect Packaging for Takeaway Excellence!
Crafted from high-quality grease resistant board, this carton is built to withstand the rigors of delivery, ensuring that your food arrives fresh and intact. The double locking mechanism guarantees a secure closure, giving you peace of mind knowing that your culinary creations are safe and sound during transit.
This carton comes with a nested base, stacked and ready to be filled with your scrumptious offerings. But what sets this carton apart is its unique dip pot holder, which snugly fits a 2oz pot, keeping your dipping sauces, dressings, or condiments separate and mess-free.
With contour edges that exude elegance, this carton elevates the presentation of your food, giving it a premium look that's perfect for a high-quality Quick Service Restaurant (QSR) range. So whether you're packing up a hearty salad or a side dish, the Contora Large Salad/Side Carton with Dip Pot Holder is the ideal choice for takeaways and deliveries, providing both functionality and style in one innovative package.
Dimensions: 187/170 x 115/100 x 63mm
Case Quantity : 200
Product Code: 90932