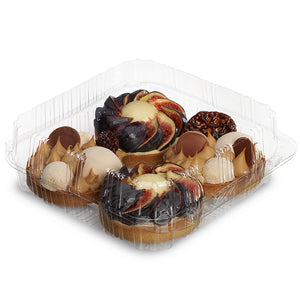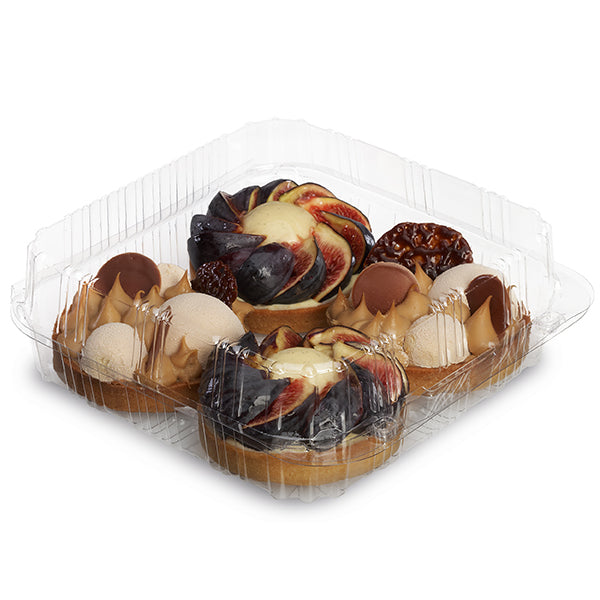 Square Hinged Cake Container
Delight your customers with an exquisite display of your cakes using this Square Hinged Cake Container, and let your desserts take center stage in style.
Made from APET (Amorphous Polyethylene Terephthalate), this container boasts excellent properties such as clarity, durability, and food safety. The transparent nature of APET allows the intricate details and tantalizing beauty of your chocolate eclairs, cream cakes, and more to shine through, enticing customers with a visual feast for the eyes.
Featuring an easy closure mechanism, this container ensures a hassle-free experience. The hinged design allows for smooth opening and closing, making it convenient to access your delectable treats. The secure closure keeps your cakes fresh and intact during storage and transport, giving you peace of mind that your creations are well-preserved.
In addition to its functional features, this container is also lightweight, making it easy to handle and transport. Its square shape provides stability and versatility in display arrangements, allowing you to create visually appealing presentations for your cakes.
This container is the perfect choice for displaying various types of cakes, adding a touch of elegance to any occasion. Whether it's a special event or a bakery showcase, the Square Hinged Cake Container made from APET elevates your presentation to a whole new level.
Dimensions : 180x180x70mm
Case Quantity : 300
Product Code: 10060A