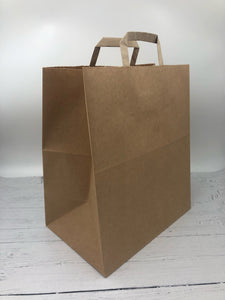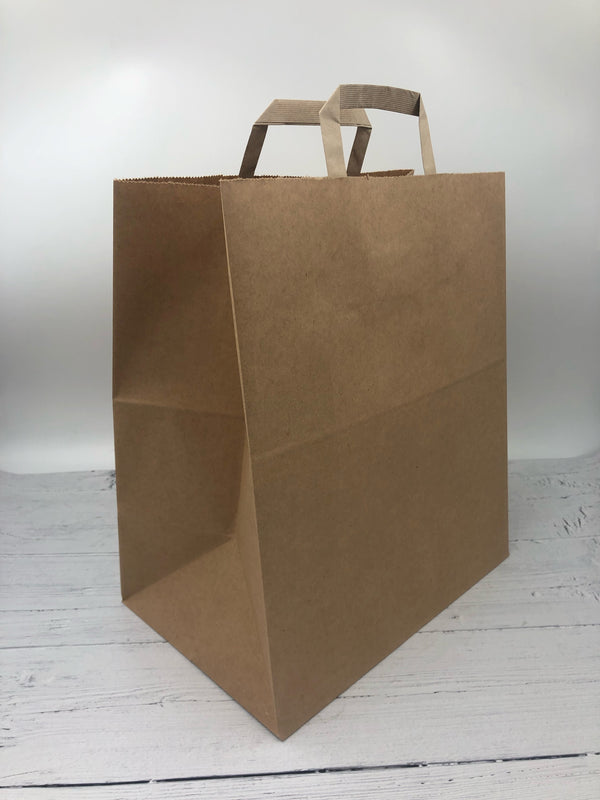 Extra Large Kraft Patisserie Carrier Bags
Serve your customers with confidence!
Upgrade your business packaging with these Extra Large Kraft Patisserie Carrier Bags that are both eco-friendly and reliable. Show your customers that you care about the environment while maintaining the quality and professionalism of your business. 
Designed with a flat bottom and flat handles, these bags are ideal for carrying your delicious pastries, cakes, and other baked goods with ease. The flat handles provide a comfortable grip while the flat bottom ensures that the bags remain stable and upright, making them convenient for take-aways, restaurants, and cafes.
These Kraft Patisserie Carrier Bags are not only eco-friendly, but also of premium quality and strength. They are made to withstand the rigors of transporting baked goods, ensuring that your treats arrive at their destination in perfect condition. The sturdy design and high-quality materials used in these bags make them a reliable choice for your business needs.
With a 100% recyclable design, these Kraft Patisserie Carrier Bags are a responsible choice for businesses that prioritize sustainability. They are made from recycled paper, reducing the environmental impact associated with single-use plastic bags. By choosing these bags, you are making a positive contribution to the environment.
Dimensions : 32x21x37 cm
Case Quantity : 250
Product Code: 10094