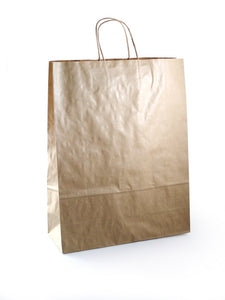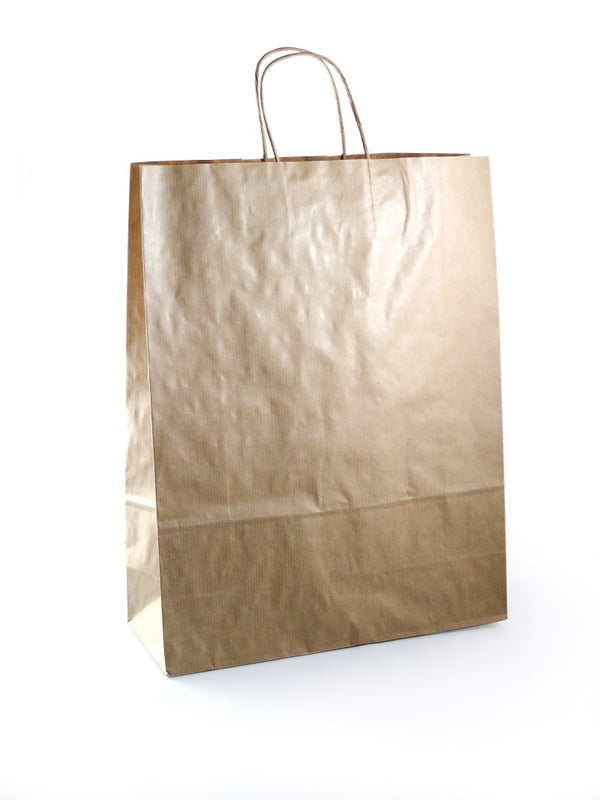 24+11x31cm Toptwist Fashion Carriers Kraft Bags
Step into a world of eco-friendly elegance with our Kraft Paper Carrier Bags.
Crafted from premium-quality paper that's derived from natural wood fibers, these bags are not only environmentally conscious but also exude a rustic charm that's perfect for any occasion.

Designed with durability in mind, the twisted handles of these bags provide a secure and comfortable grip, making them ideal for carrying everything from gourmet foods to delightful gifts and beyond. With their robust construction, you can confidently transport your items without worry.
But that's not all! They are more than just practical, they are also a statement of your commitment to sustainability. Made from renewable and biodegradable materials, these bags are a conscientious choice that promotes a greener lifestyle, reducing your environmental impact and leaving a positive impression on the planet.
Whether you're a trendy boutique owner, a gourmet food purveyor, or a conscious gift-giver, our Kraft Paper Carrier Bags are the epitome of eco-friendly chic. Embrace the allure of natural aesthetics, uncompromising durability, and environmental consciousness with these exquisite bags that elevate your packaging game to a whole new level. Carry your items in style, while showcasing your dedication to the planet and inspiring others to do the same.
Dimensions : 24+11 x 31cm
Case Quantity : 200
Product Code: 10074