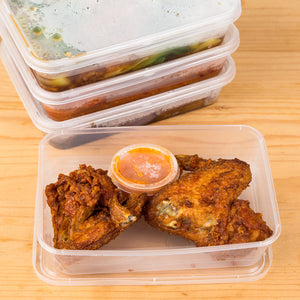 650ml Premium Microwave Containers with Lids
The perfect solution for any catering or hospitality business!
These premium containers are made of a clear, thick anti-break material that provides high durability and strength. The polypropylene plastic makes them easy to clean, and they are both freezable and microwavable, making reheating a breeze. The tight-fitting lids are resistant to leaks and steam, preserving the temperature of the food for longer and ensuring that your customers can enjoy their meal just the way it was meant to be.
Safe to use in the microwave, food can be heated with ease. Whether you're transporting takeaway food or storing leftovers, these microwave-safe containers are a must-have for any business in the food industry.
Capacity : 650ml
Case Quantity : 250/250
Product Code: 10339