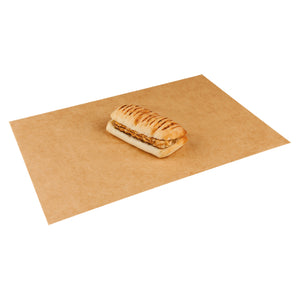 400x315mm Greaseproof Wrap Sheet
Elevate your food presentation and provide optimal product protection with the Kraft Greaseproof Wrap Sheets. Their natural and authentic appearance, recyclability, and versatility make them a practical and eco-friendly choice for your fast food and snack packaging needs.
Designed to provide optimum product protection, these wrap sheet ensures your food stays delicious from the kitchen to the customer's hands. It is also recyclable, making it an environmentally responsible choice for your business.
One of the key features of these wrap sheets is their versatility. They can be easily adjusted according to your customers' desires and needs, allowing for customization and personalization. Whether you're wrapping burgers, sandwiches, or other snacks, these Kraft Greaseproof Wrap Sheets can be tailored to meet your specific requirements.
With their greaseproof properties, these wrap sheets provide an additional layer of protection against grease and moisture, ensuring your food stays fresh and appetizing. They are also easy to handle and use, making them a convenient option for busy food service operations.
Dimension : 400x315mm

Case quantity : 500 sheets
Product Code: 10257