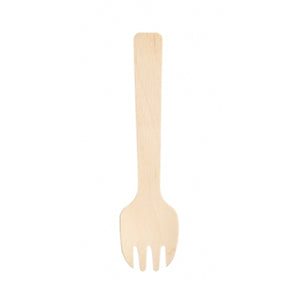 105mm Wooden Birchwood SPORK
Make a positive impact on the environment with our 105mm Wooden Birchwood SPORK that combines practicality with sustainability. Embrace the eco-friendly lifestyle with this biodegradable, recyclable, and natural wood SPORK that's perfect for your everyday dining needs.
Crafted from 100% natural wood, this SPORK is not only versatile and practical but also environmentally friendly. This SPORK is 100% biodegradable, meaning it will naturally break down over time without harming the environment. It is also recyclable, making it easy to dispose of responsibly and reduce your ecological footprint.
Designed with eco-friendliness in mind, our Wooden Birchwood SPORK is a guilt-free alternative to single-use plastic cutlery. By choosing this SPORK, you're making a conscious choice to reduce plastic waste and promote sustainable living.
Measuring at 105mm, this SPORK is compact and portable, making it perfect for on-the-go meals, picnics, camping trips, and more. Its smooth and sturdy construction ensures a comfortable and reliable dining experience.
Dimensions : 105mm
Case Quantity : 5000
Product Code: 101411