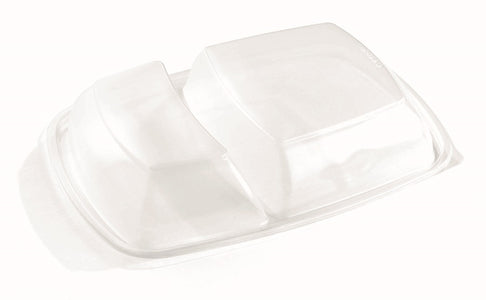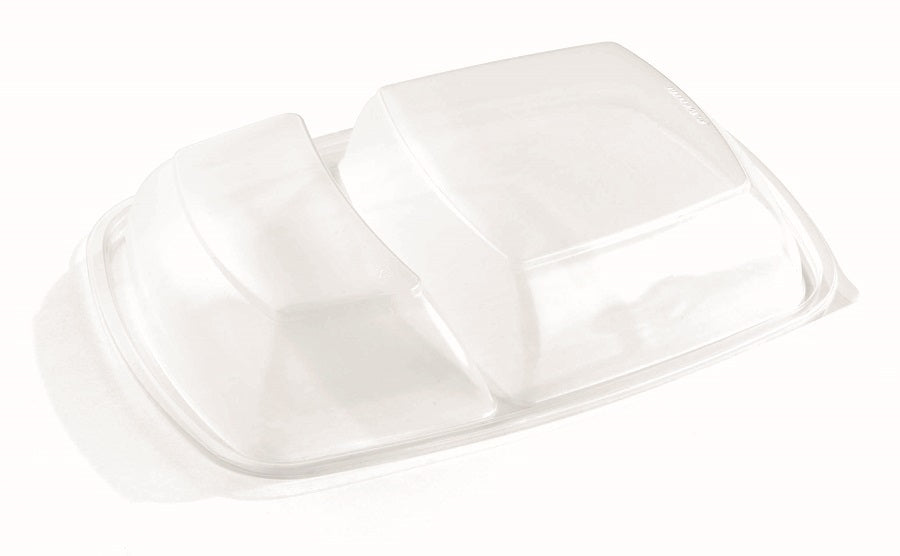 2 Compartment PP Dome Lids
Choose the Fastpac range for your ready-meal delivery needs and experience the benefits of their performance, convenience, and food presentation. These ventilated lids are perfect for maintaining the quality of your food during transport and ensuring that your customers enjoy a satisfying meal experience.
Designed to meet your ready-meal delivery needs, these lids are ventilated, allowing steam to escape and preventing condensation, ensuring your food stays fresh and appetizing. They are leakproof and offer a perfect fit, ensuring that your food stays secure during transport. The lids are designed for easy stacking, making them convenient for storage and transport. 
The Fastpac range includes compact rectangular black containers that are ideal for storing, stacking, and transporting. These containers are made with high-performance materials, offering excellent impact resistance and anti-leak protection. They are designed to withstand temperatures ranging from -18 to +100 degrees centigrade, making them suitable for both hot and re-heatable meals.
In addition to their functional features, the Fastpac lids also provide an excellent food presentation for your restaurant to the end consumer. Their stylish and understated appearance enhances the look of your dishes, making them even more appealing. The lids are also designed for comfortable eating directly from the bowl, adding to the convenience for your customers.
IMPORTANT: Please note containers are sold separately
Dimensions : 280x200x20mm
Case Quantity : 150
Use with containers code : 12083
Product Code: 12083LD