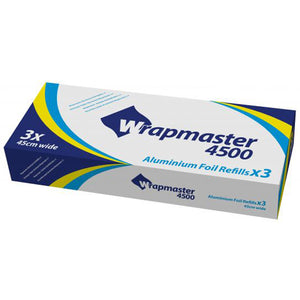 450mmx90mtr Catering Foil Refills
Suitable for use in commercial kitchens, restaurants, catering events, and other food service settings where food safety and quality are a priority this 450mmx90mtr Catering Foil Refills are designed to be hygienic, safe, and quick to use in various catering applications. Ideal for wrapping and storing food items, keeping them fresh and protected.
The aluminium foil used in these refills is of high quality, ensuring durability and resistance to tearing, which makes it suitable for heavy-duty use in professional catering settings. It is also designed to provide excellent heat retention, making it ideal for keeping food warm or for use in ovens, grills, or other heated environments.
These catering film refills are easy to handle and dispense, allowing for quick and efficient food wrapping. They are 
Case Quantity : 3 Rolls
Product Code: 10039A1