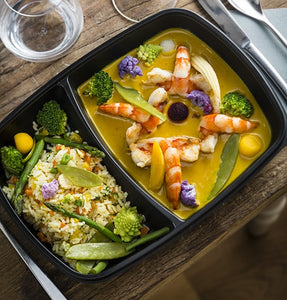 500/800ml 2 Compartment Microwave Containers
The ultimate solution for delivering hot and delicious meals in style! These sleek and compact rectangular containers are not only functional, but also add a touch of sophistication to your meal delivery service.
Designed with convenience in mind, the Fastpac containers are easy to store, stack, and transport, making them perfect for busy restaurants and delivery services. With super anti-leak protection and excellent impact resistance, you can trust that your food will arrive at its destination intact and ready to be enjoyed.
But that's not all - the Fastpac containers are also designed for practicality. Food can be comfortably eaten directly from the bowl, eliminating the need for additional dishes or utensils. Plus, the ventilated lids prevent steam from accumulating inside, making them microwave-safe for easy reheating.
No matter if it's piping hot or frozen, the Fastpac containers can handle it all. With a temperature range of -18 to +100 degrees Celsius, they are perfect for storing, freezing, and reheating a wide variety of meals. Your culinary creations will look as good as they taste, thanks to the stylish and understated appearance of the containers that enhances the presentation of your dishes.
IMPORTANT: Please note lids are sold separately
Dimensions : 280x200x40mm
Capacity : 500/800ml
Case Quantity : 150
Use with Lids code : 12083LD
Product Code: 12083