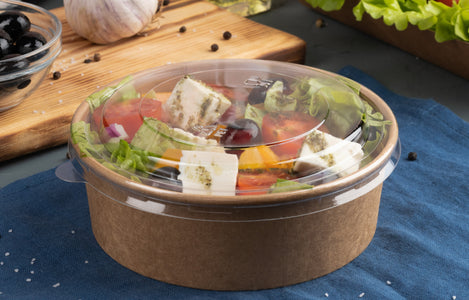 550ml Kraft Salad Food Bowl
Indulge in guilt-free street food with our Kraft Salad Food Bowl!
Crafted from 100% recycled paper, this 550ml Kraft Salad Food Bowl is both eco-friendly and leak resistant. 
Its versatile design is perfect for holding piping hot or refreshing cold dishes, complete with all your favourite sauces and gravies.  Made from lightweight Kraft, this packaging solution not only reduces heat loss, but also offers a greaseproof barrier, ensuring your food stays fresh and delicious.   
Suitable for hot, cold, wet or dry delights, this sustainable solution is a win-win for both the environment and your taste buds.
*Lid sold separately
Case Quantity : 400s
Match with Bowl code: 90910
Product Code: 90909