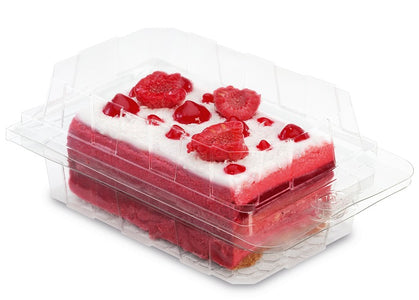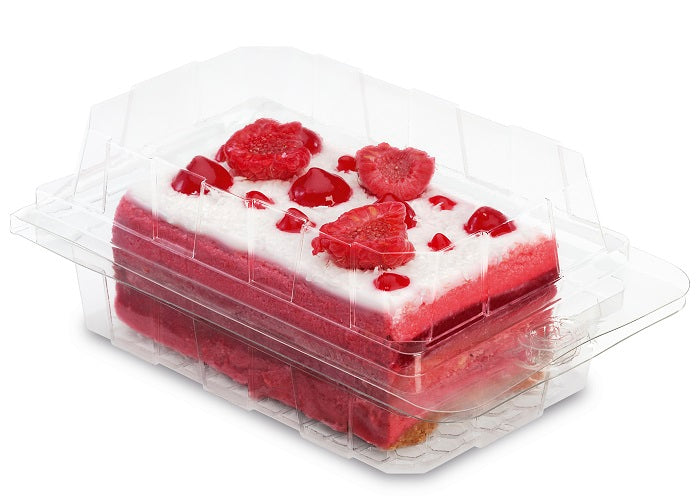 Single Cake Slice Hinged Container
Indulge in Dessert Perfection with our Single Cake Slice Hinged Container!
With an easy closure mechanism, this container promises a seamless experience. Opening and closing is a breeze, ensuring that your cakes are effortlessly accessible while maintaining their freshness. The hinged design provides a secure lock, keeping your delicate cake slices safe and sound during storage and transport, so you can deliver your creations with confidence.
Crafted from lightweight APET, this container is not only durable but also easy to handle and transport. Its stackable design saves precious space in your storage and display areas, making it a practical choice for your bakery or patisserie.
More than just a packaging solution, this container is a canvas for your creativity. Its sleek design and perfect clarity allow your cakes to take centre stage, elevating your presentation to a whole new level. Impress your customers with a slice of heaven that is not only delicious but also beautifully showcased in this single cake slice hinged container.
Unleash your imagination and let your cakes shine with this remarkable packaging option. Made from premium APET, it's a reflection of your commitment to quality and attention to detail. Elevate your cake display game and make a lasting impression with this innovative and eye-catching container that embodies both elegance and functionality.
Dimensions : 130x80x50mm
Case Quantity : 800
Product Code: 10050