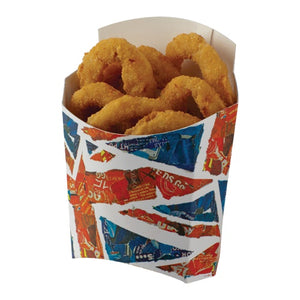 Union Jack Flag Chip Scoop
The Union Jack Chip Scoop is a true embodiment of British pride, with its iconic flag design printed on sturdy paper cardboard. This simple yet genius packaging adds a touch of nostalgia to your chip or snack serving experience. The red, white, and blue colours of the Union Jack beautifully adorn the chip scoop, making it a perfect fit for any British-themed gathering or event.
Made from 100% recyclable materials, this chip scoop is not only stylish but also environmentally friendly. The leak-proof design ensures that your chips or snacks stay contained, making it practical for any occasion.
It's a true celebration of British culture, and a statement piece that adds a touch of elegance to your chip or snack presentation. So, grab your Union Jack Chip Scoop and let your chips or snacks shine in a patriotic and eco-friendly way!
Dimensions : (L) 81/70 x (W) 49/43 x (H) 71/122 mm
Case Quantity : 1000
Product Code: 90977