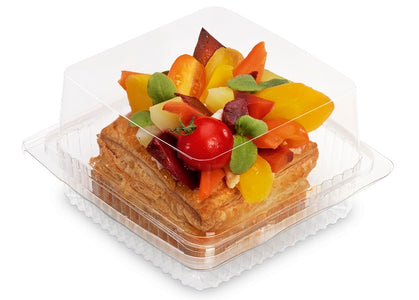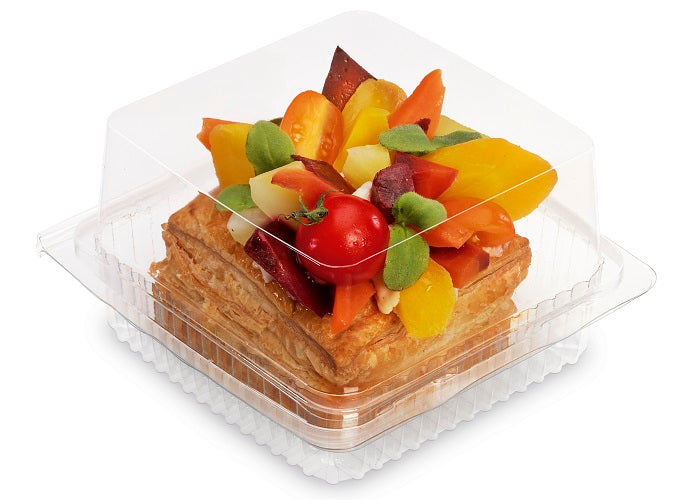 135x135x70mm Square Cake Hinged Container
Showcase your dessert delights in our Square Cake Hinged Container!
Featuring an easy closure design, our hinged cake containers make it simple to open and close the container, while securely protecting your desserts inside. The durable APET material ensures your cakes are safe from damage during transport and display, while also providing excellent visibility to showcase your creations.
Our Square Hinged Cake Containers are lightweight, making them easy to handle and transport, while also reducing packaging weight and minimizing environmental impact. The transparent material allows for excellent product visibility, enhancing the presentation of your cakes and enticing customers.
These containers are specifically designed for displaying chocolate eclairs, cream cakes, and other similar desserts. The square shape provides a modern and sleek look, while the hinged design allows for easy access to the contents. The APET material is durable and crack-resistant, ensuring your desserts are protected during transport and display.
With their convenient hinged design, our Square Hinged Cake Containers are perfect for bakeries, pastry shops, cafes, and other food establishments. They are also ideal for special events, parties, and catering services, adding a touch of sophistication to your desserts.
Dimensions : 135x135x70mm
Case Quantity : 360
Product Code: 10050G