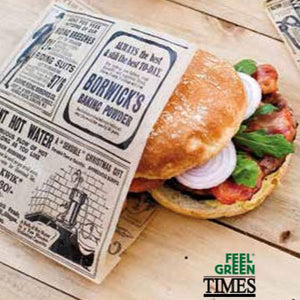 17x18cm Kraft Times Greaseproof 2 sides open Bags
Make your delicious treats look even more appetizing with our 17x18cm Kraft Times Greaseproof 2 Sides Open Bags!
Made from biodegradable and recyclable materials, and printed with compostable inks, they are a sustainable choice for environmentally-conscious businesses. 
The double-sided open design allows for easy loading of burgers, kebabs, pizzas, hot dogs, and crepes, making your food service quick and efficient.
But that's not all! Our greaseproof bags are treated with a special anti-grease treatment, keeping oils and grease where they belong - inside the bag! No more messy stains or drips to worry about, ensuring a clean and enjoyable eating experience for your customers
While not suitable for microwave or oven use, these bags are a must-have for takeout, street food, and food truck operations. 
Size : 17x18cm
Case Quantity : 2x500pcs
Product Code: 10037F