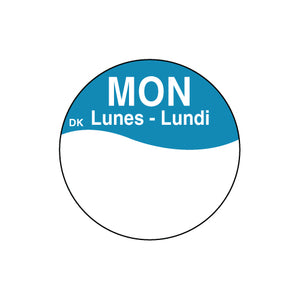 25mm Trilingual Circle Monday Label
Say goodbye to messy, illegible labels that fall off or fade away with our DuraMark Labels!
You'll never have to worry about mislabelled containers or boxes again.  Our aggressive adhesive is designed to permanently adhere to any surface, making sure your food items are properly labelled and your kitchen runs smoothly.
Moisture resistant? Absolutely. These labels are built to withstand the toughest environments, including freezers and other moisture-prone areas. No more peeling or fading, even in sub-zero temperatures. And with their compatibility with film and foil, They are the practical choice for any kitchen setting.
With color-coded options available, you can easily implement a system for tracking food items based on the day of the week, food categories, or deli items. Reduce food waste, protect your profits, and stay compliant with HACCP protocols with our reliable labelling solution.
Day Indicator : Monday
Label Size : 25x25mm
Labels Per Roll : 1000 Labels
25mm Circle Trilingual
Half and half
Product Code: 10312C