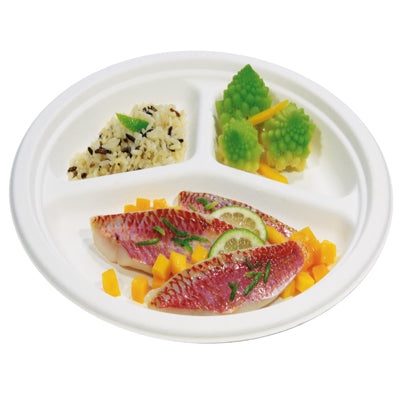 3 Compartments Round Sugarcane Plates
Elevate your dining experience with our eco-friendly and versatile Sugarcane Plates!
Manufactured from natural non-wood fibres sourced from renewable and sustainable sugar cane resources. These plates are not just any ordinary disposable plates - they are a testament to your commitment to sustainability and responsible dining.
Built to withstand, our Sugarcane Plates are strong, rigid, and fully compostable. They can handle your heaviest meals and messiest foods with ease, without compromising on durability or functionality. Coupled with three compartments, they are perfect for keeping different food items separate and organized, making them ideal for picnics, parties, and events.
Temperatures resistant of up to 100°C and oil temperatures of up to 150°C, they can be used for a wide range of hot and cold food options. Their versatility and eco-friendly nature make them a perfect choice for both indoor and outdoor dining.
Dimensions : 10"
Case Quantity : 500
Product Code: 10121F