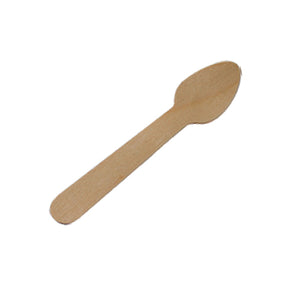 95mm Wooden Ice Cream Spoons
Add a rustic and natural touch to your food presentation, enhancing the overall aesthetic appeal!
Made from 100% natural wood, our ice cream spoons are a sustainable alternative to plastic utensils. They are biodegradable and compostable, making them an environmentally friendly option for your foodservice needs. 
Suitable for direct contact with all types of food, desserts, and ice cream. They are smooth, splinter-free, and gentle on your mouth, ensuring a safe and enjoyable eating experience. Their sturdy construction makes them 
Durable and with a length of 95mm, our wooden ice cream spoons are the perfect size for individual servings - ideal for scooping and enjoying frozen treats without worrying about breakage or bending, perfect for parties, events, food trucks, ice cream parlours, and more. 
Dimensions : 9.5cm (95mm)
Case Quantity : 1000
Product Code: 10140H