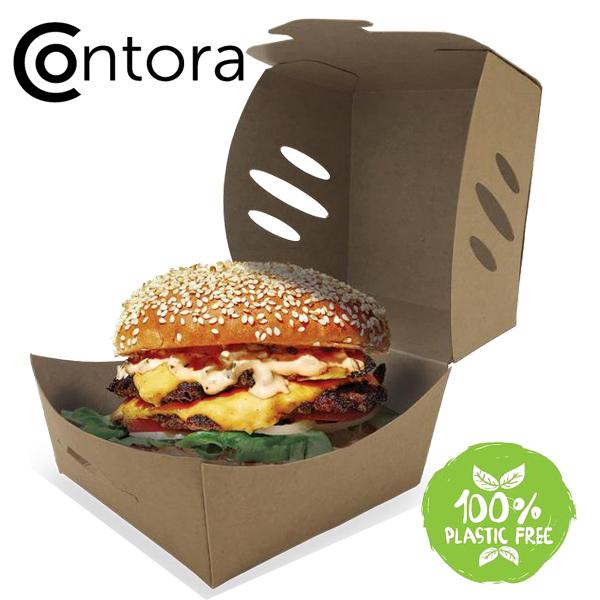 Contora Large Burger Box
Savour the Flavour with Contora Large Burger Box, the ultimate packaging for gourmet burgers and more!

Indulge in the taste of perfection with our Contora Large Burger Box - a cardboard clam-shell box that's designed to elevate your burger experience to new heights. Not only is it perfect for holding juicy burgers, but it also provides additional carry space for chip cartons, making it the ultimate solution for a complete meal on the go.
Crafted from high-level grease-resistant board, this sustainable packaging option is specifically designed for the Contora range, ensuring that your food stays fresh and delicious. The air holes allow for heat release, preventing moisture build-up within the product, and ensuring that your burger stays crispy and flavorful.
The secure pack structure can be easily constructed by hand, and the plastic-free design makes it an eco-friendly choice for those who care about the environment. With a secure locking mechanism, this pack is built to keep your food safe and secure, even during transit for takeaway or restaurant delivery services.
What sets our Contora Large Burger Box apart is its versatility - it can also open out into a homemade plate, making it a convenient option for enjoying your food on the go.
Dimensions : 110 x 110 x 114mm
Case Quantity : 210
Product Code: 90931