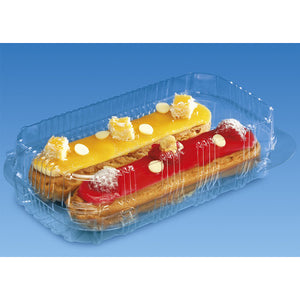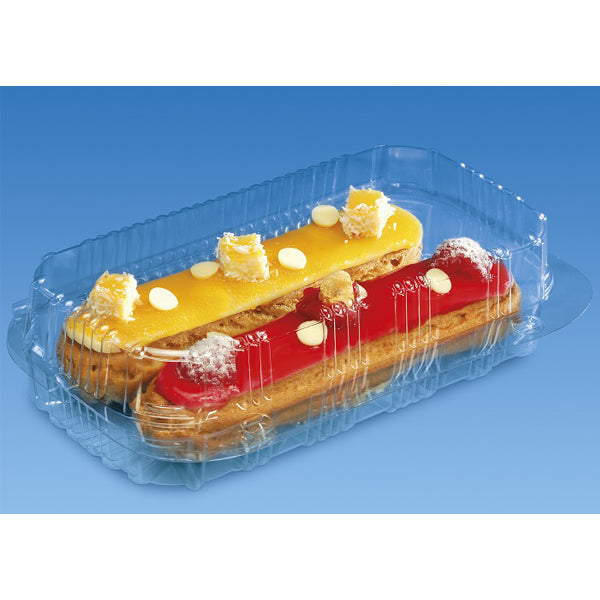 2 Eclair Cake Hinged Container
Keep your finest Eclairs fresh with our 2 Eclair Cake Hinged Containers!
Made from high-quality APET material, these containers are perfect for displaying your sweet treats with style.  Featuring an easy closure and air-tight seal, our containers keep your pastries fresh and protected, ensuring maximum taste and quality for your customers. The secure closure also prevents any leakage or spills, making them ideal for transporting your desserts to events, parties, or for takeout and delivery services.
Our Eclair Cake Containers are lightweight, making them easy to handle and transport, while also reducing packaging weight and minimizing environmental impact. The transparent material allows for excellent product visibility, enhancing the presentation of your pastries and enticing customers.
These containers are specifically designed for displaying chocolate eclairs, cream cakes, and other similar desserts. The spacious layout provides ample room for your creations, while the air-tight seal keeps them fresh and visually appealing. The APET material is durable and crack-resistant, ensuring your desserts are protected during transport and display.
With their sleek and professional appearance, our Eclair Cake Containers are perfect for bakeries, pastry shops, cafes, and other food establishments. They are also ideal for special events, parties, and catering services, adding a touch of elegance to your desserts.
Dimensions : 190x115mm(2x(165x35)mm
Case Quantity : 400
Product Code: 10054A